From the Alps to Provence
GUIDED ELECTRIC MOUNTAIN BIKING TOUR OF THE ALPS TO PROVENCE
Duration

6 days, 7 nights, departure from Gap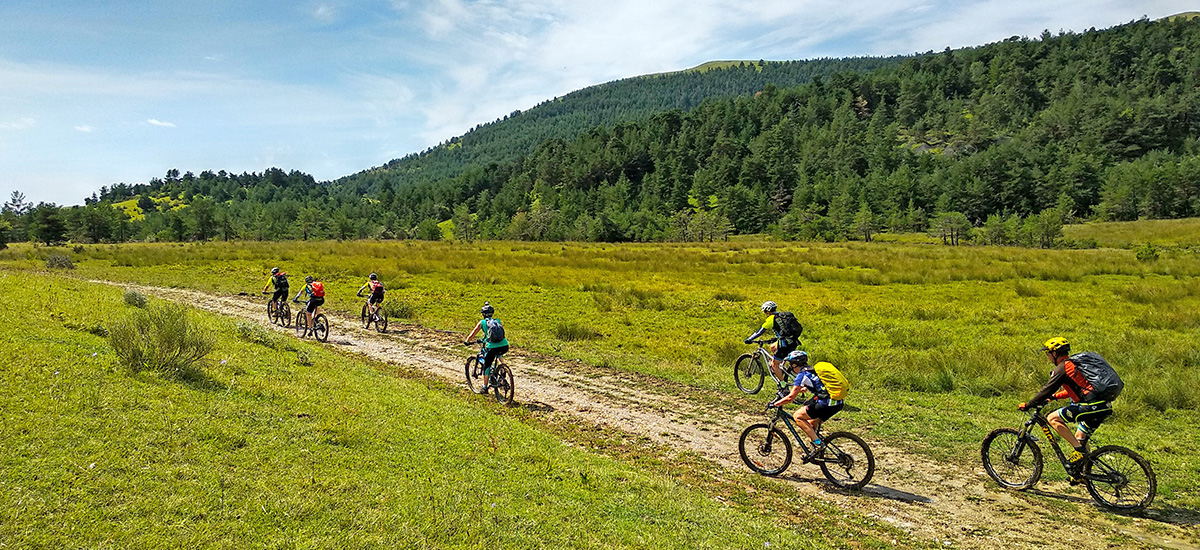 Infomation and booking, contact
Manu Danjou
+ 33 686 762 448
Your guide will take you off the tourist track on mountain biking trails winding through the mountains and hills of the Alps to Provence. The majority of the route is off piste with some short road stretches to join up sections and the technical level is easy to moderate with forest pistes and some accessible single track to add a bit of fun and the odd challenge to your trip.
Expect to experience magnificent panoramic mountain views, dramatic cliff faces, stunning gorges, beautiful wild forests and woods, lakes to take a dip in, lavender fields and orchards and there's even a historical monument to discover at the end of your trip! You will be riding through wolf country so wildlife is abundant all the way along with, amongst others: chamois, wild boar, mouflon, deer, foxes, eagles, vultures and of course wolves.
Quality electric mountain bikes are provided and your baggage is carried to your accommodation each day so you only need to ride with a day pack.
No guide rate: on request
Price includes
Du lieu du rendez-vous à celui de la séparation, dans le cadre du déroulement normal du programme, le tarif inclut les prestations suivantes :
Guidance by an E-Pedal bike instructor
Full board :

Midday meals: cold picnics taken on the ground (mixed salad made from starch, cold meats, cheese and fruit);
Morning and evening: self-catering (hearty, warm and balanced supper and full breakfast).
Energy cereal bars.
Accomodation in lodges or hostels, in shared rooms or dormitories (for organized groups, possibility of sleeping in a double room. Personalized estimate on request.).
Luggage transport from one accommodation to another.
Price does not includes
Price does not include :
Bike/MTB rental (see below)
Pre-routing to the meeting place
Insurance, assistance
Drinks
Visits to museums, monuments and sites not included in the program
Additional trips linked to a modification of the program for meteorological reasons
All personal expenses.
All that is not indicated in the section "Prices includes".
Bike rental rates
| | | | | | | | |
| --- | --- | --- | --- | --- | --- | --- | --- |
| Days | 1 | 2 | 3 | 4 | 5 | 6 | 7 |
| Road bike / Gravel | 25 € | 50 € | 68 € | 80 € | 100 € | 120 € | 140 € |
| Versatile or hard tail MTB | 25 € | 50 € | 68 € | 80 € | 100 € | 120 € | 140 € |
| All mountain/Enduro MTB | 60 € | 120 € | 162 € | 192 € | 240 € | 288 € | 336 € |